Tuesday, May 31, 2005
Miss Canada crowned Miss Universe
Miss Canada was crowned Miss Universe 2005 in Bangkok, Thailand this week. During a celebatory photoshoot Natalie Glebova was asked what quality she found most desirable in men. She simply replied with a shy smile and quickly went on to pose for a picture. I don't think many men will be encouraged by
this
.
Oh! Canada.
Paris Hilton Engaged
Paris Hilton and boyfriend Paris Latsis have announced their
engagement
.
I hope they have their honeymoon in the capital of France.
Then we'll get a video titled "Paris in Paris in Paris".
Monday, May 30, 2005
Singaporeans to Swim Across English Channel
Two Singaporeans are planning to swim across the English Channel in August 2005. If they succeed, they will most like be praised and celebrated by our government. On the other hand Myanmar nationals who are able to swim across the Johore Strait are caned and deported back home.
Will the 2 Singaporeans make it ? Stay tuned to our own English Channel 5 for this.
ChannelNews Asia reports on this piece of
channel news
.
Saturday, May 28, 2005
Singapore Sex Video Declared Too Political
A Singapore porn video has been banned for being political.

The video features a mass orgy where the women give the men oral pleasure. No other sex acts are involved.

The porn director still does not know why his movie was declared too political.

The video is titled "People's Suction Party".

.

One Night in Paris - The Sex Tape
The infamous Paris Hilton sex tape is being sold as "One Night in Paris". This title is inspired by the song "One Night in Bangkok", which, incidently, is banned in Thailand.
Now what if Janet of the "wardrobe malfunction" fame had a similar sex tape done while on vacation in Wyoming state?
One Night in
Jackson Hole
?
Naked Bank Officer Attempts Rape
A New York banking corporation vice-president attempted to rape an off-duty female police officer at a jogging trail in New Jersey. The guy was wearing only a condom when he jumped out of the woods to rape.
I can only think of 2 reasons why he was wearing a condom.
1. He is used to safe sex, i.e., having sex with female staff inside his bank's safe
2. Or, being a bank officer, he hates last-minute withdrawals

Original article.
Toilet Paper Crisis in Finland
Reuters reported that shoppers in Finland were buying up toilet paper in fear of a shortage due to a paper mill worker strike. As the locals were frantically loading up in a Helsinki store, a Singapore Malay exchange student was spotted observing the scene with a bemused look. When asked why he replied that this toilet paper crisis could easily be water-ed down and that he was willing to show how.

Original article.
Friday, May 27, 2005
Japanese Actor and Tomorrow.sg
Do you think this
Japanese actor
should be featured in Tomorrow.sg ?
If yes, what announcement should be made the day before ?
Suggestions please.
The Next William Hung
A Chinese student in an American college announced his desire to follow in the footsteps of William Hung. He revealed that he is inspired by Bo Bice, the losing American Idol finalist.
This aspiring singer is apparently obsessed with his
idol
. In his attempts to physically resemble him, he grew his hair long and wore a fake moustache and beard. Many people commented that he looked like a boyish
Kitaro
. To top it off, he changed his given name to Bo.
Many Chinese newspapers around the world, including Singapore, covered this idealistic young man's dream. Most Hokkien readers responded derisively that this student had nothing better to do.
Will fortune shine on this student with the surname Liau ?
Stay tuned to the Bo Liau story.
.
PM Lee in Japan
PM Lee visited Japan recently to speak at a symposium among other things. I found some pictures of the event on the Internet which prompted me to imagine what he was saying:
Note: This is fiction
Q: PM Lee, will you be concerned if Dr. Chee decided to run against you in the next elections ?
PM Lee: Of course not. Let him try. I will play him like a
guitar.
Q. What if JBJ manages to settle his legal issues and runs against you ?
PM Lee: Ha, Ha. Even better. I'll play him like a
sitar.
Q. What if Dhanabalan decided to return to politics, switch parties and run against you ?
PM Lee: I'll slap him............with a lawsuit.
Singapore to Review Controversial Hindi Movie
On Friday May 27, Channel News Asia reported that the Media Development Authority of Singapore will review the controversial Hindi movie "Jo Bole So Nihal" which had drawn protests from Sikhs in India who claim it denigrates their religion.
I wonder if the film director should calm the situation by promising a sequel titled "Revenge of the Sikh".

Link to news article.
Thursday, May 26, 2005
Parody T-Shirts
I am a big fan of parody t-shirts, especially the ones that mock large corporations. Wearing one is the little guy's way to protest the evils of globalization. Or he may secretly wish it becomes an amusing ice-breaking conversation starter to pick up chicks.
Here is a selection I discoverd on the Net:
1.
NUS
becomes
Singapore University Home of the Slackers
In the linked page, click "View Larger" and look at the reverse design for the slogan and NUS parody logo.
2.
FedEx
becomes
FedUp
.
If FedEx merges with UPS, I wonder what new name comes to mind?
3.
Starbucks
becomes
Starf*cks
4.
Taco Bell
becomes
Go To Hell
5. Disney's
Finding Nemo
becomes
They Found Nemo
Note: I think this is a great idea for a T-shirt. I have not come across one though.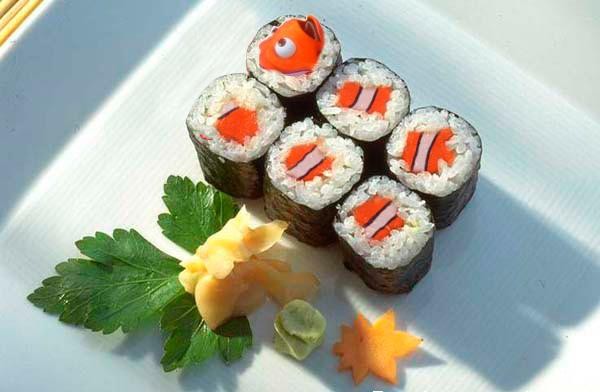 6.
Old Navy
becomes
Old Navel
7.
Nautica
becomes
Nausia
(suitable for pregnant ladies)
8.
Abercrombie
becomes
AbnerCrummie
My dream job
I dream of a hotel job in the capital of France so everyday I can enter Paris Hilton by the backdoor.

Sunday, May 15, 2005
oo